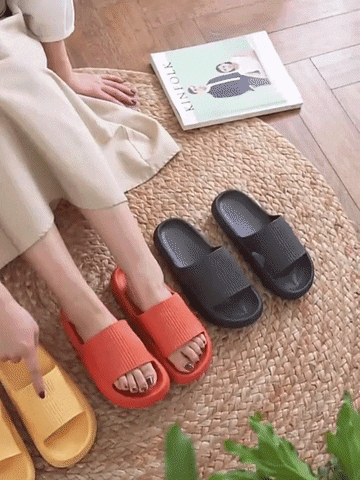 Size Specification

SIZE

240mm

250mm

260mm

270mm

280mm

Foot length (cm)

23-24

24-25

25-26

26-27

27-28

CN SIZE

36/37

38/39

40/41

42/43

44/45

EU SIZE

36/37

38/39

40/41

42/43

44/45
Wear them all day long without having any discomfort.
Air Slides help relieve pain caused by arthritis, swelling, plantar fasciitis, muscle pain, poor circulation, cramps, and above all, they improve foot and arch support incredibly well.
AVOID FOOT PAIN
Have you ever got home from a long day, taken off your shoes, and sighed in pain?
Imagine putting your foot into the Air Slides, a therapeutic cushion slipper that compresses and relaxes your foot with each step.
HELP BAD JOINTS
The Air Slides are ergonomically designed, the toe-to-tail is 15° angled balancing the pressure from your feet through to your hips. You'll notice instant relief for your sore feet, ankles, knees, and hips.
ALL-DAY COMFORT
Built with 4.5 cm thick, anti-chafe, anti-slip EVA compression material to support and comfort your feet at all times. The softness reduces the pressure of walking, get a pair for both outside and inside for all-day comfort.


ANTI-SLIP
Our slippers are designed with an anti-slip textured material to prevent you from slipping and falling as well as keeping your foot from coming out. You also won't experience any chafing or blisters in the Air Slides.
THICK & LIGHTWEIGHT
Our Air Slides has the thickest mid-sole on the market to give you pillow-like comfort with every step. They weigh less than your phone, you won't even notice they're on.
EASY TO CLEAN
Cleaning Air Slides is easy and dry fast! simply wipe any dirt with a wet cloth or run through running water to clean.
ENVIRONMENTAL - FRIENDLY!
Air Slides is made from Ethylene Vinyl Acetate (EVA) is widely accepted as safe for use in shoes and teethers. EVA is a type of plastic that does not require a plasticizer and is BPA-free, so it is considered to be a safer alternative material. The Center for Health, Environment, and Justice (CEHJ) recommends EVA as a safer PVC-free plastic alternative.