Rush Delivery Available.
99.8% of Reviewers Recommends This Product.
This product is a limited time second shot item, the number is limited, Please place an order in time.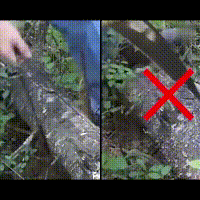 FEATURE:
Way of working:

The bi-directional, self-cleaning chainsaw style cutting teeth tears through wood cutting both ways! Made of high 65 mn high carbon heat treated steel, the longer chain equals incredibly fast cutting time with razor sharp blades sawing 3 sides of a limb at once...clearly outclassing the competition.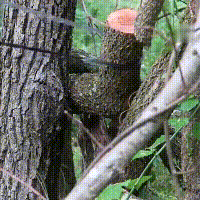 QUALITY DOES COUNT:

Our saw rips through anything from thin branches to large tree trunks in seconds. Cuts overhead branches with ease. Our Saw has heavy duty rugged handles with metal brackets and can easily be re-sharpened, unlike other sharp pointed pocket saws. Our Pocket Chainsaw comes with a tough nylon front snap storage pouch and belt loop. It can be sharpened with a regular 5/32 round chainsaw file. Perfect Multitool for all your Bushcraft needs.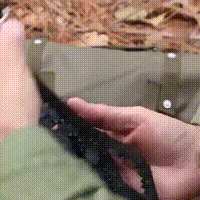 THE MOST DURABLE SURVIVAL HAND SAW

- You can find pocket saws for less, but they offer you MUCH less. We all know, typically if you spend less now, you'll pay MORE later as the quality of hand chainsaws are NOT all the same Other CHEAPER saws are simply made with a thinner chain & handle You get what you pay for and we guarantee our heavy duty saw for "LIFE"... for a reason.
Suitable:

HAS BEEN AS SEEN ON *FOX NEWS *CBS *NBC *ABC and now TV. This tree pruning saw is perfect for Boy Scouts, your Bug Out Bag, Landscapers or your Emergency Gear. Use it to clear mountain bike or ATV trails or when off-roading. Makes a great gift for any occasion!
Pocket Chain Saws FAQ
Q: What are the biggest pros of pocket chainsaws?
A: These are very light, very compact, and give you some serious cutting ability that you can carry around. This gives you many more options in camping and survival situations that you might not otherwise have. They're very inexpensive and being manually powered means no worries about gas shortages.
In the specific situation of always having a saw on hand, especially if you're going to be in any situation that could turn into survival or stranded, that's where the pocket chainsaw really comes into play.
Guarantee:
Hurry, before it is gone! Limited time remaining
Click the "BUY IT NOW" button now! Limited Quantity - Will sell out fast!