Make your Artistic Moments Outstanding and Valuable Always!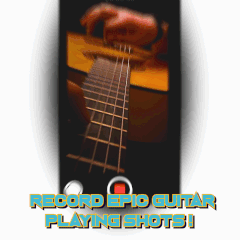 The Live Music Recording Selfie Stand is your answer so that those special sessions don't go to waste. Now you can keep a record of yourself performing and rehearse better and harder. Make your star moments unforgettable for you, your family, and friends.
Bring your Magic Moments to Life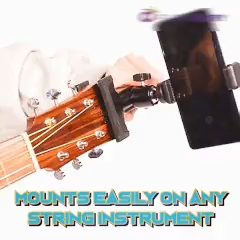 Our product is a specially made stand. It has two ends to it, one to attach to your guitar and the other to clamp and hold your phone. As you play your guitar, you can video record your performance so that you can view yourself live or at any time. All you have to do is to unloose the switch and rotate the clip. This will give you the horizontal shooting your phone needs to catch your sessions.
Features:
The clamp is very flexible so that you can get many pivot points. It has a 360-degree rotation ability. To enable you to make the best captures you want, the clamp can be easily adjusted to 4 pivot points so that you can get the perfect angle for your phone.
This clamp offers you much convenience and ease of operation. It is easy to assemble with no knowledge needed. It is also lightweight so you can travel with it easily. Carry it with you to the beach, park, or entertainment spot to take your recording with the best background.
Wide Application and Compatibility
You can use many specialized musical instruments. This includes the guitar, soprano ukulele, concert ukulele, violin, mic, keyboard, brass instruments, drum hoops, bass, banjo, mandolin, and more. You can fix it too to a tile wall surface, the instrument panel, the windshield, or a smooth tabletop. Most smartphones can also be mounted such as iPhones, GoPro, Samsung Galaxy, Xiaomi & More.
It will provide a very stable and erect position for you to conveniently capture your moments. You clamp it to any desired location that you want such as your table or desk. You can then enjoy perfect streaming hands-free. Conveniently continue your jam session or work at your home or office, knowing that your sessions are securely recorded.
Simpler, More Affordable Recording
This clamp gives you a chance to do your recording. You can do a home recording with your guitar and phone and get awesome shots. The effect is particularly more dramatic with the iPhone slow motion
The mount comes with a skid-resistant and shockproof rubber pad. This will keep your phone stay safe from drops, bumps, or shock. It is also safe for your musical instrument.
Vintage Design with Durable Materials
The stand has a uniquely elegant design. It is stylish and sleek with a nice polished look. It is made of aluminum and PP which makes it resistant to corrosion, rusting, wearing, and breakage.