🔩SAVE TIME, MONEY & ENERGY!🔩


Whether you're a hobbyist, a mechanic or a machinist who constantly works with fasteners, you can create threaded holes with ease when you have this Thread Tap Drill Bits Set! This set is designed for the most demanding projects and the hardest materials.
The bits can drill, tap, and countersink holes in just one step because they are able to quickly penetrate materials. They come in a wide range of sizes and have a self-centering point to help the user maintain accurate placement. These are extremely easy to use which makes them a must-have accessory for your daily purposes.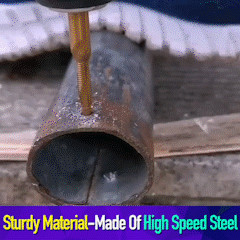 HIGHLIGHTS:
PRECISE POSITIONING: Features a self-centering point to eliminate the need for center drilling or center punching
ENHANCES PRODUCTIVITY: Requires no tool changes, offering good alignment and fast cycle times make this a very productive tool
GREAT FOR VARIOUS THREADS: The bits come in 6 different sizes from M3 to M10 so it could meet your diversified requirements
SPIRAL FLUTE DESIGN: The wide spiral flute allows chips to easily get out of the hole to prevent chip crowding and breakage of tap drill bits
CONVENIENT: Easy to use and install, allowing you to change bits fast with one-handed load and release operation
WIDE COMPATIBILITY: The combination drill and tap bits are designed to tap up to 10-gauge wood, plastic copper, brass, Aluminum, sheet metal and other materials

SAVES TIME & EFFORT: Drills and taps in a single pass to save your labor and precious time
SUPERIOR QUALITY: Made from a premium material that is durable and resistant to deformation or breakage
SOLID CONSTRUCTION: The Titanium covered surface helps prevent oxidation and makes it rust-resistant

HOW TO USE:
Just drill until the bit fully penetrates the material, then the tapping will start to occur
When it reaches the right depth, reverse the drill to deburr and remove any swarf to complete the job
SPECIFICATION:
Material: High-Speed Steel with Titanium coating
Hex Shank: 6.35mm (1/4")
Standard: Metric
Thread Size: M3, M4, M5, M6, M8, M10
Pitch: 0.5mm, 0.7mm, 0.8mm, 1.0mm, 1.25mm, 1.5mm
PACKAGE INCLUDES:
1 x M3x 0.5: Total length: 55mm, Spiral length: 24mm, drill diameter: 2.5mm
1 x M4x 0.7: Total length: 54mm, Spiral length: 24mm, drill diameter: 3.3mm
1 x M5x 0.8: Total length: 58mm, Spiral length: 28mm, drill diameter: 4.2mm
1 x M6x 1.0: Total length: 58mm, Spiral length: 28mm, drill diameter: 5.0mm
1 x M8x 1.25 Total length: 59mm, Spiral length: 18mm, drill diameter: 6.8mm
1 x M10x 1.5 Total length: 59mm, Spiral length: 20mm, drill diameter: 8.5mm